BAS2 RRC Defender 2.2L TDCi 150BHP Biography OBD Remap
£774.00
Including 20% VAT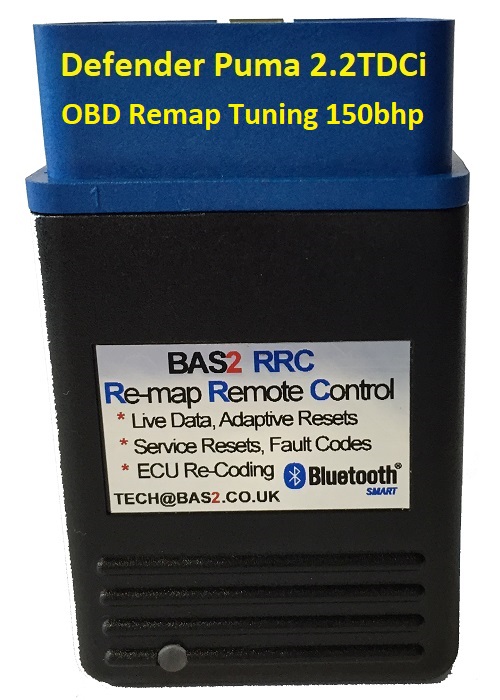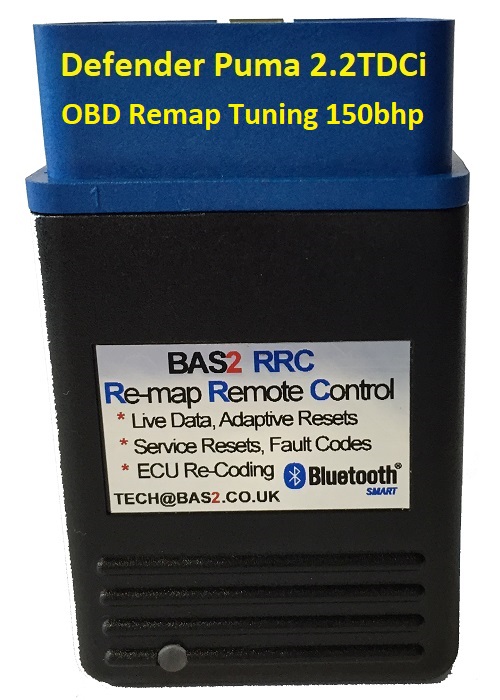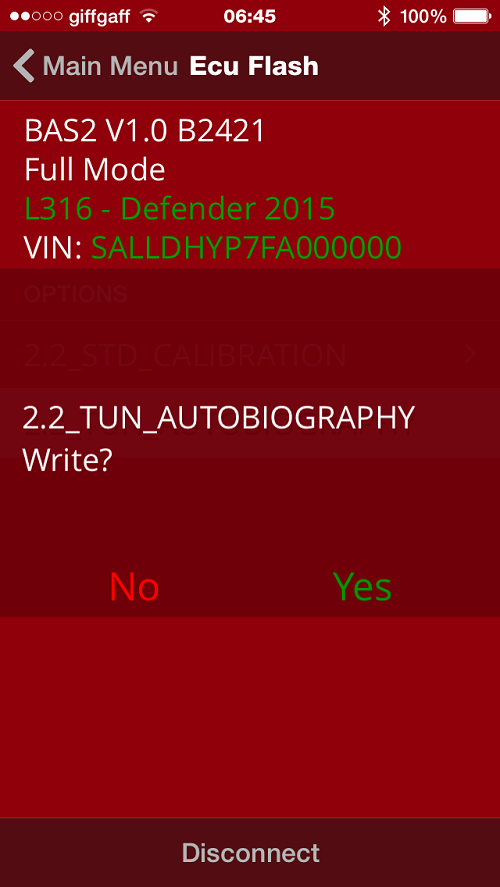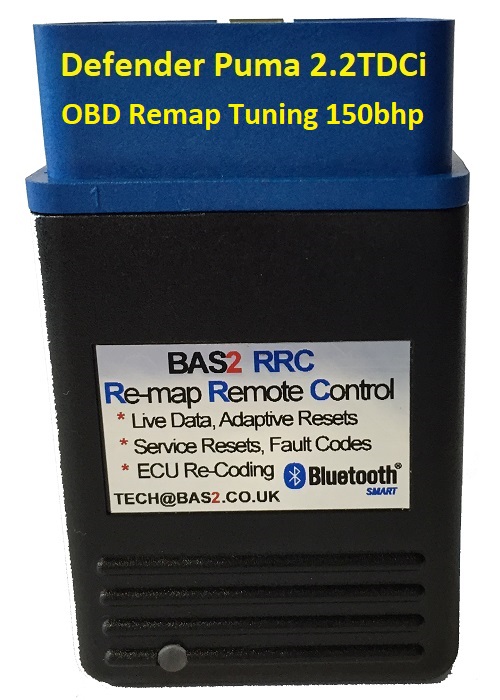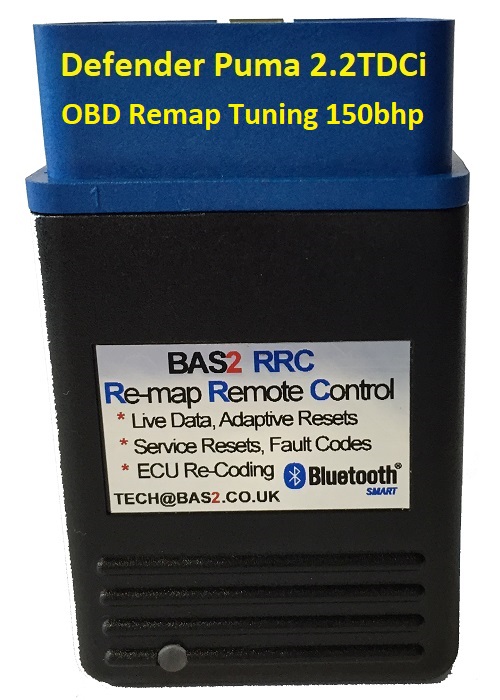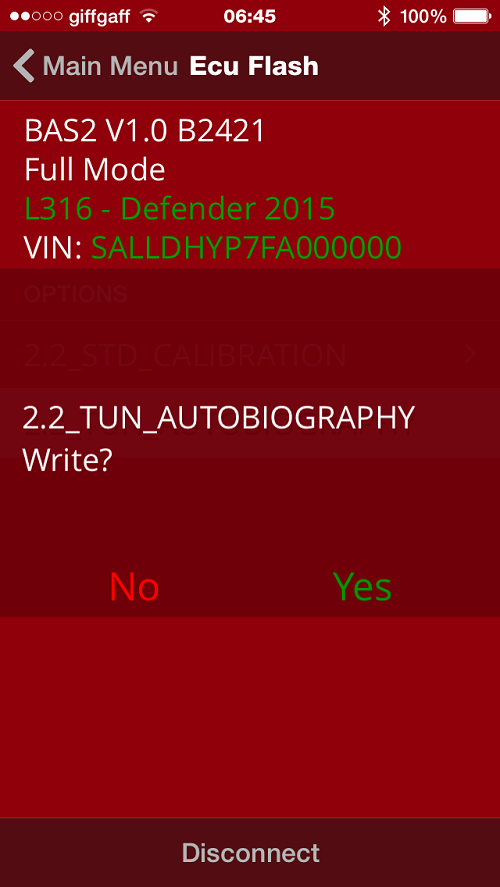 A one-time price of
£645.00
will be added to your order.
Maximum purchase amount of 10 is Allowed
Description
Specifications
The Defender 2.2TDCI when combined with a BAS2 Biography ECU re calibration boasts good drivability gains which aims to take the cars power up to 150bhp & 400nm with a 145kmh speed limiter.
More bhp and torque is possible when coupled with our large performance intercooler and moving up to the next tuning level of tune at 170bhp & 450Nm.
The little BAS2 Remote Remap Control tool boasts a wider range of diagnostic functionality and engine related features their is in ANY other remote device like it on the market! You simply can not get another tool like it anywhere with this level of capability and ease of use….
BAS2 supported Defender 2.2L Functions  are:
Apple iDevice & Android applications available for its control via the BAS2's Bluetooth Smart enabled hardware.
PC & MAC application software for updating the BAS2 RRC tool remap file & and its firmware.
The remap file will be created and delivered via updater software on PC or MAC once created.
Diagnostic fault code reading and clear with worded text and snap shot data shown where present.
Live engine data logging with numerical and graphical views.
Save and export logs as PDF or CSV files.
DPF service functions, engine adaptation resets, clearing adaptive values.
Airflow meter reset, Fuel lift pump reset, Turbocharger replacement reset.
Storage of both original and tuned remap calibration files.
Injector coding reprogramming or replacement.
Defender 2.2TDCi oil counter reset.
Defender 2.2TDCi Renew security ID use for fitting new PCM's
Flash programming of the engine ecu applying the latest engine calibration files.
Switch between BAS Remap standard and remapped calibrations at your leisure.
Possibility's to purchase another Vin/Remap allowing use on a second car within your household.,
As with anything BAS we have more to come and BAS are always…….. (Paving The Way!)
You will be asked when ordering to provide us with car information. Please provide us with as much information including the cars VIN/Chassis and registration numbers as you can to aid in a smooth remap transfer.
NOTE.  (Tool Is Ordered To First Use Vin)
As with all cars, BAS advise you follow a strict maintenance regime as advised by your car manufacturer, a correctly applied maintenance regime can make a difference to performance, reliability and in some cases economy.
We advise you use genuine brand Land Rover parts for all your maintenance, changing the oil and filters on a more regular basis than scheduled can also help towards a longer lasting healthier running engine!
Look after your car and it will look after you!
Warning – The fitting of any performance part or power upgrade may affect the vehicle warranty and/or alter the vehicle type approval. For more information please contact your local Land Rover dealer. We advise you to also inform your insurance company if fitting any none standard parts or power upgrades.
On checkout UK VAT will be added at the current UK rate of %20 where applicable for EU countries, VAT will be removed for non EU sales when you enter your address during the checkout process.

The tool BAS2 RRC will pair via bluetooth and be controlled by an Apple application available from the iTunes store, your Apple device must be seen as supported from the list below and be running firmware IOS 7.0 or above -iPad 3rd gen and up, -iPad Mini, -iPhone 4S and up, -iPod touch 5 and up. It also works with a medium to good quality Android device that has Bluetooth V4 or newer hardware built in. The BAS2 RRC will take its operational firmware, tuning files and any software updates via a Windows PC/MAC application provided.. The tool is an Engine ONLY tool, and only supports engine related functions like Fault codes read and clear, Live Data, ECU needed service resets, ECU Programming are just some of whats in its arsenal.