B-A-S HI FLOW Defender Performance Intercooler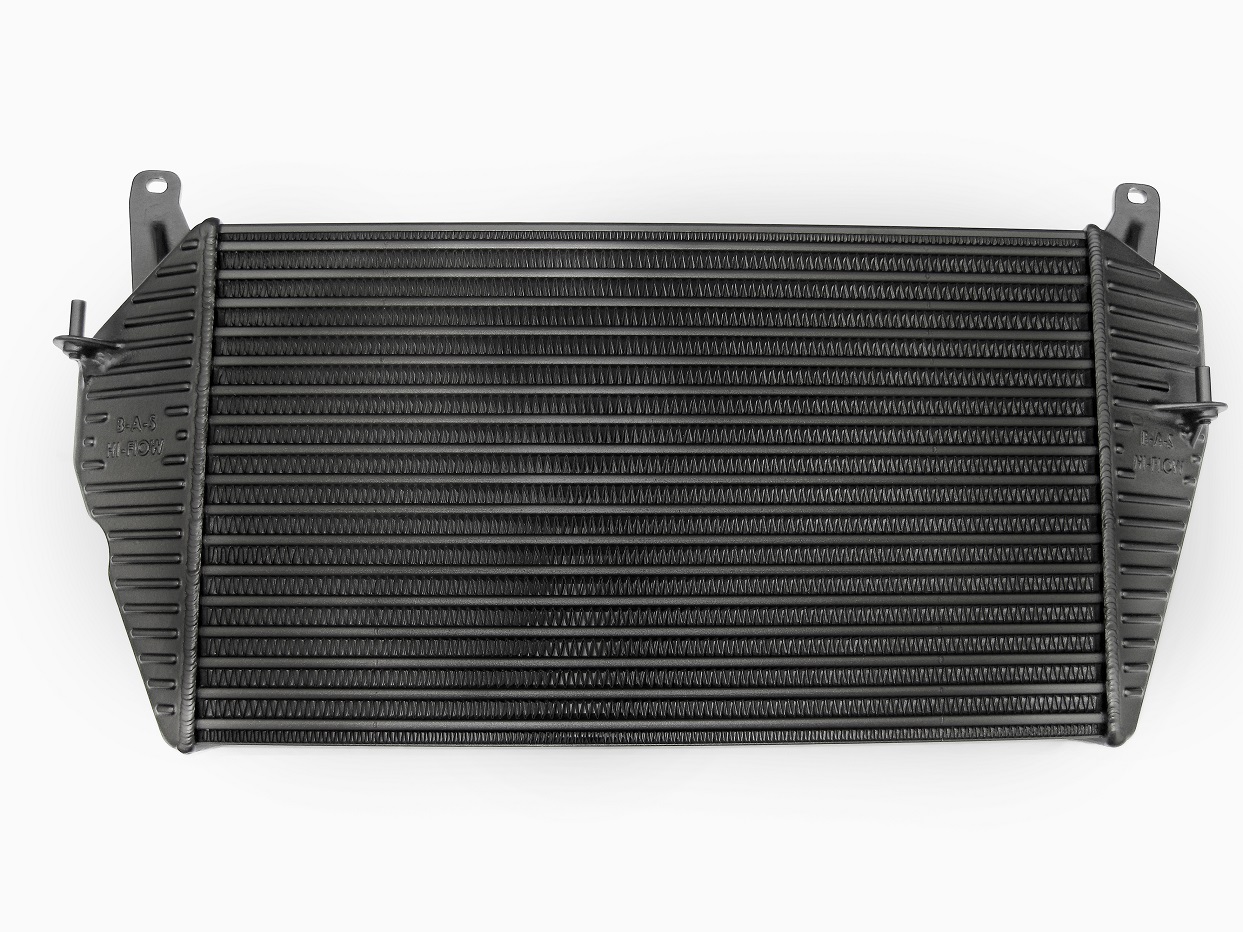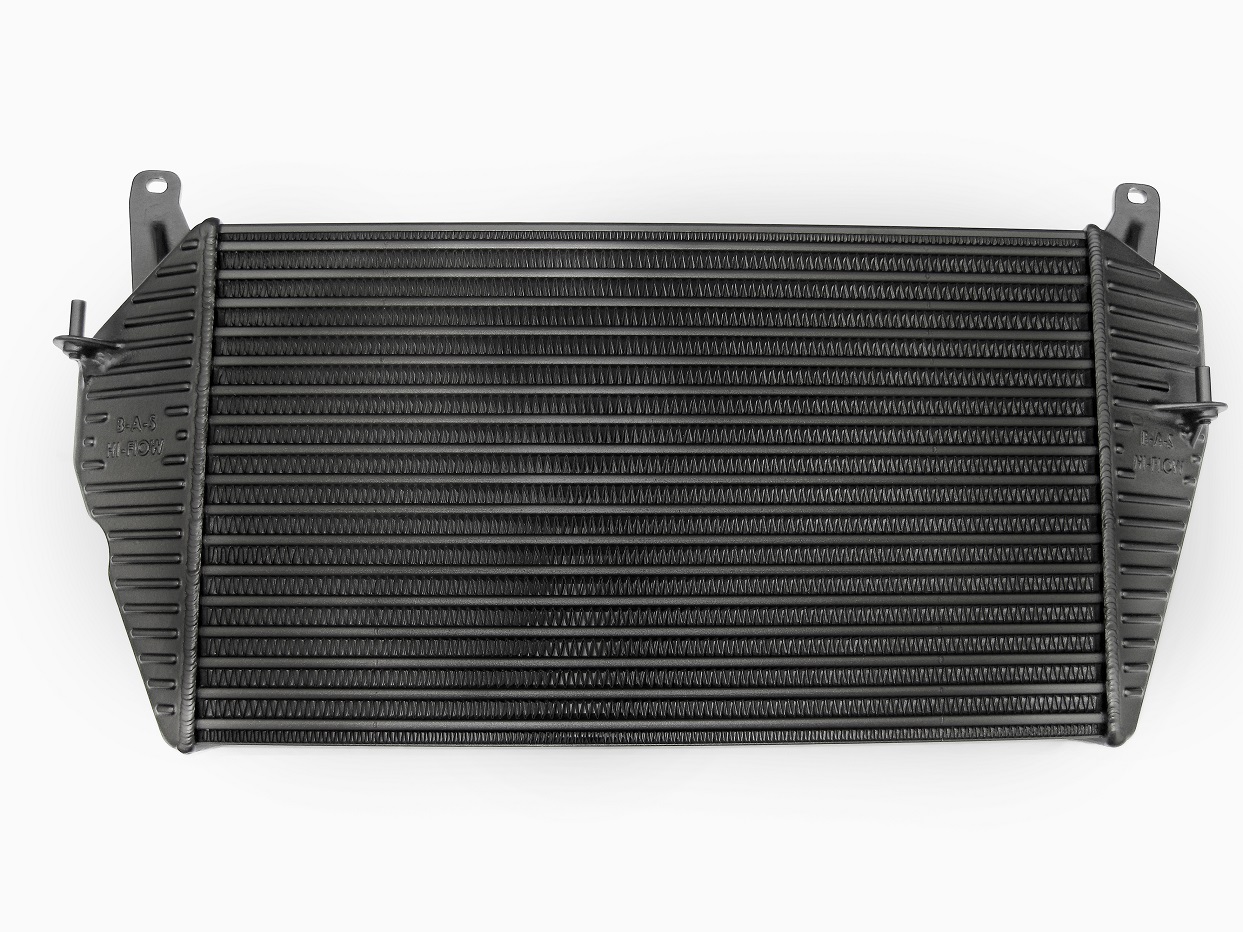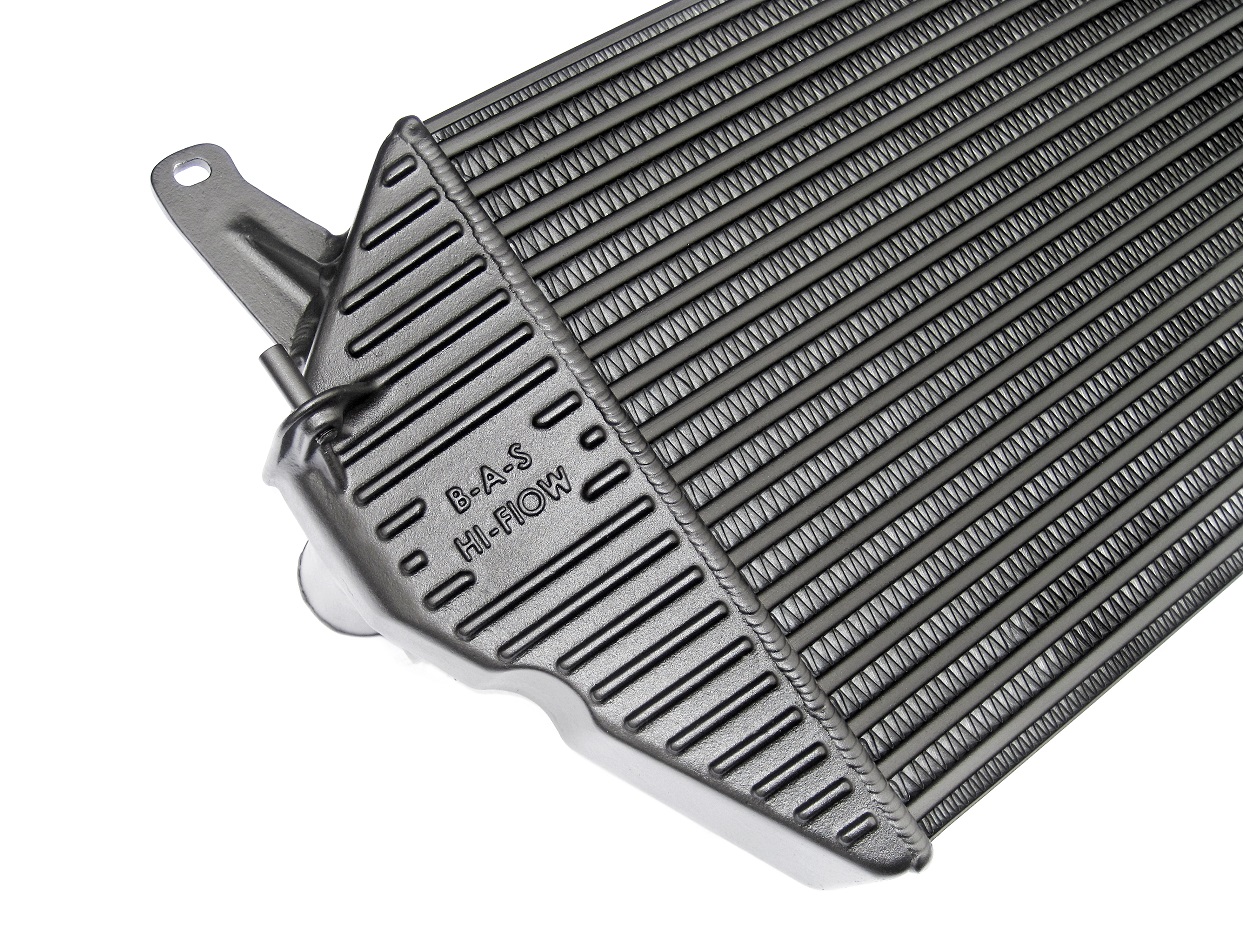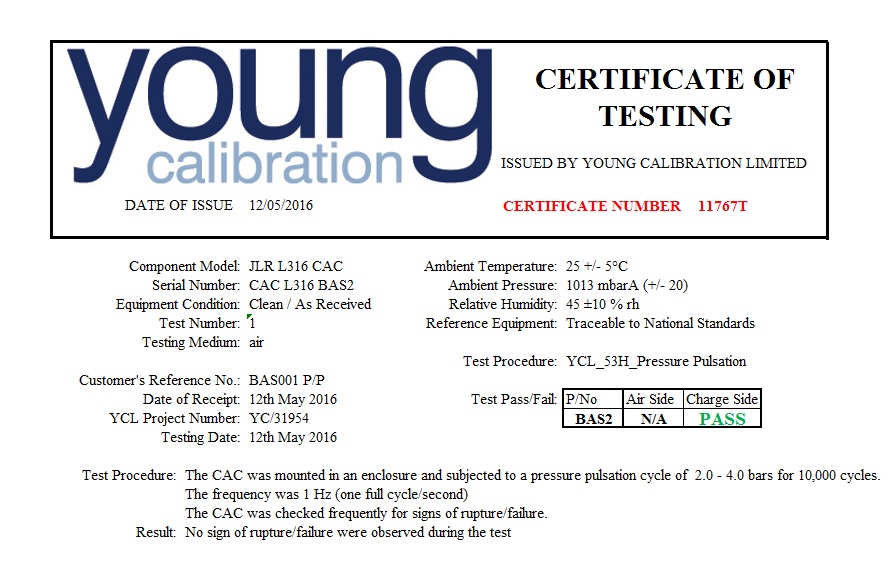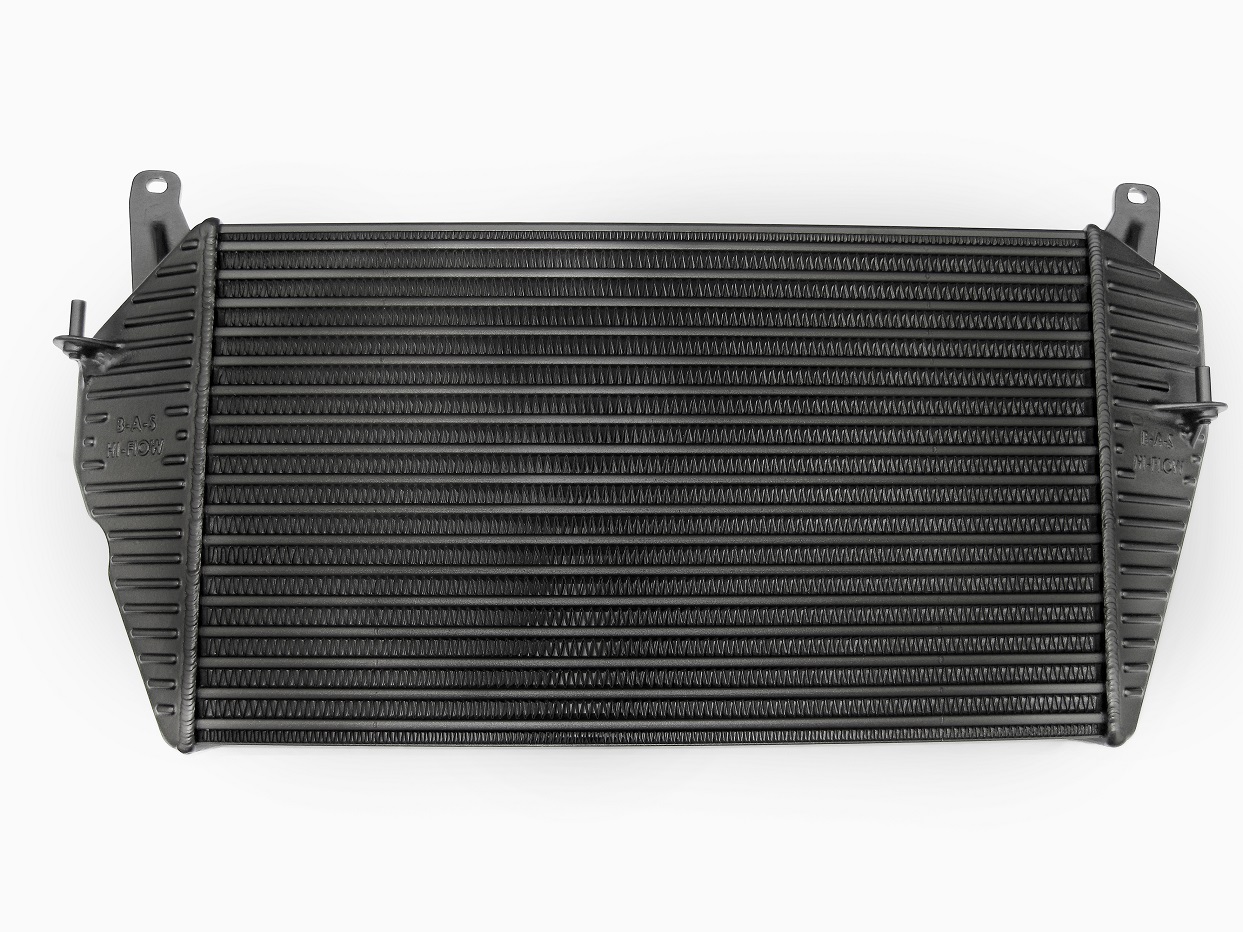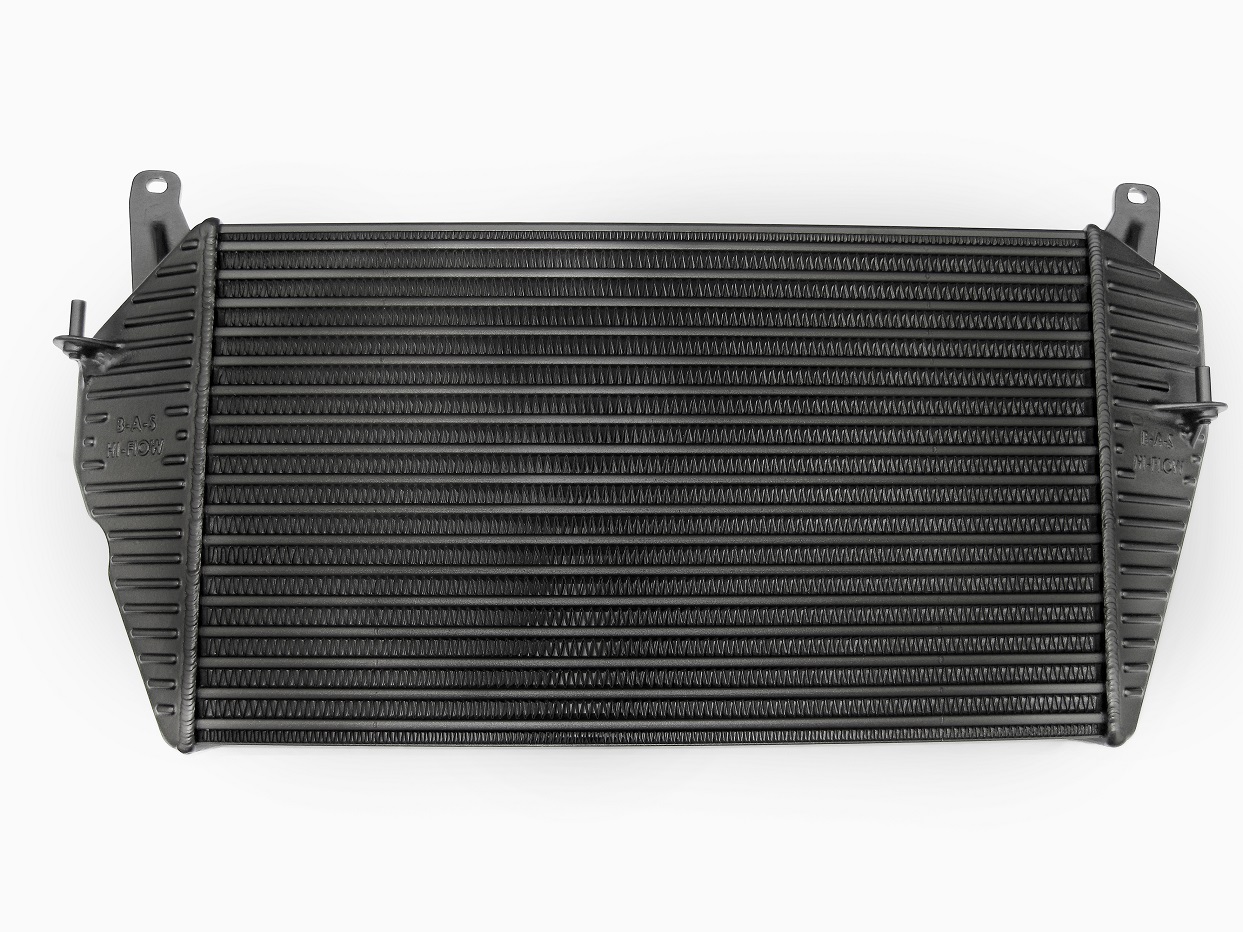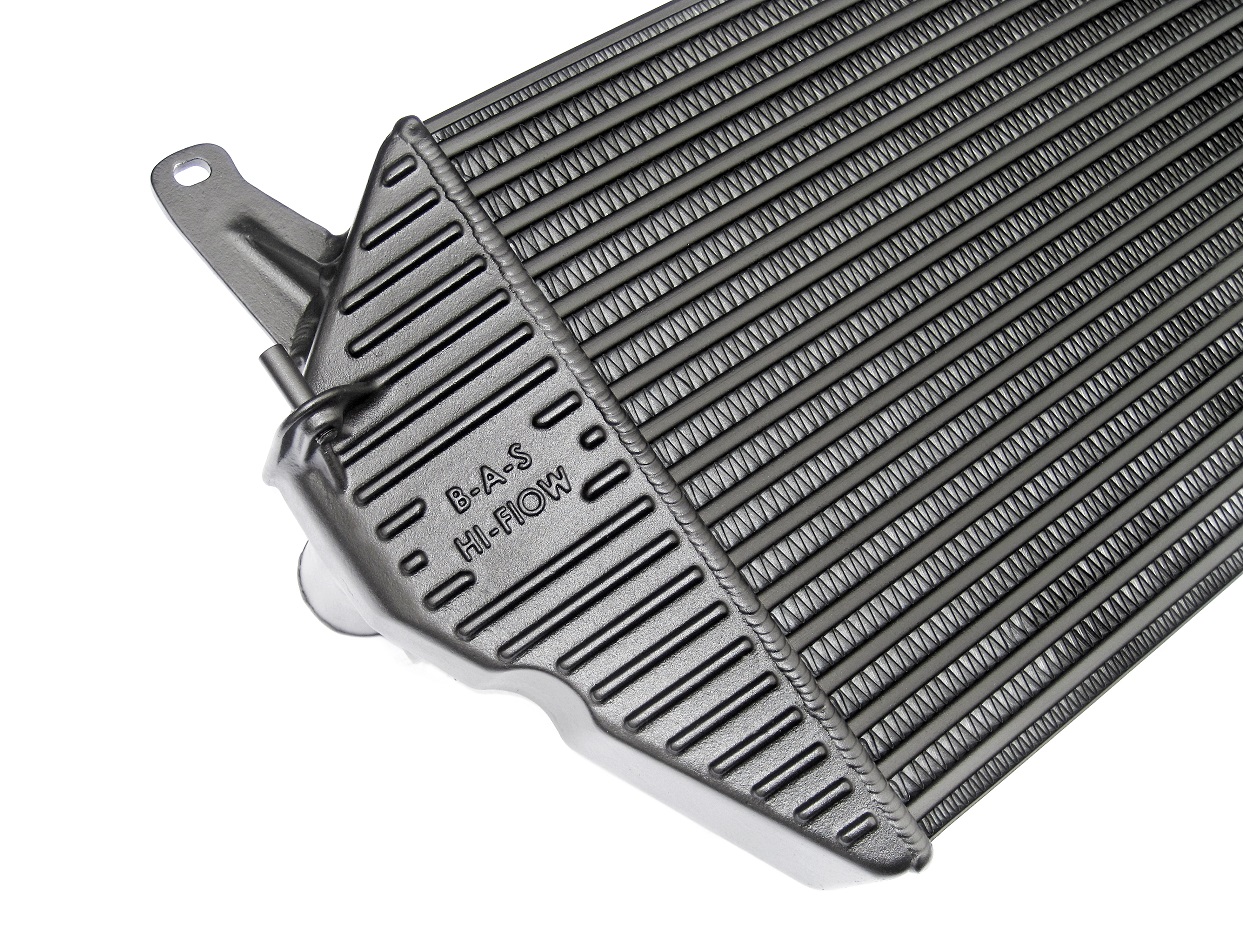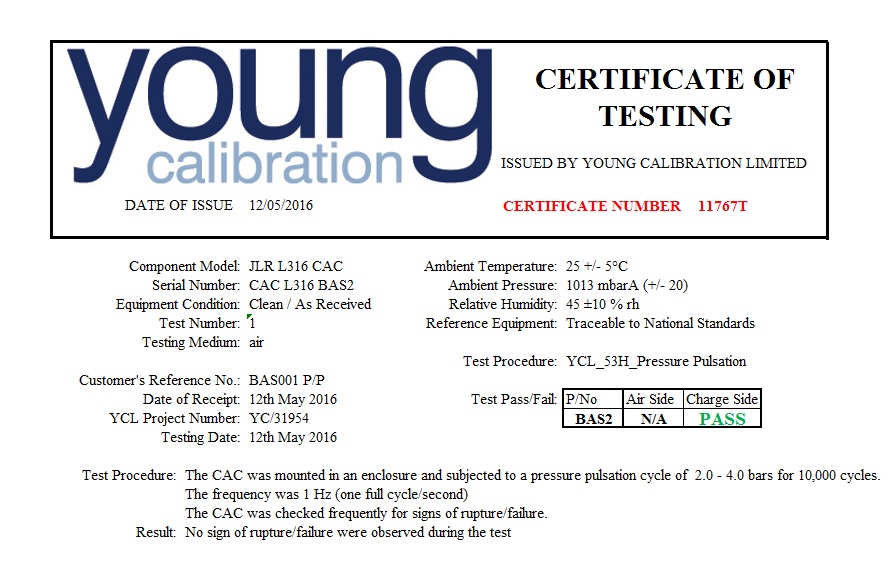 A one-time price of
£450.00
will be added to your order.
Description
Specifications
BAS HI-FLOW Land Rover Defender Uprated Intercooler
A brand new specification Land Rover Defender Intercooler dedicated for TD5, Puma 2.4 & Puma 2.2 TDCi's,  compatible for AC or non AC cars. The new BAS Hi-Flow intercooler is the ultimate in Defender uprated high performance intercoolers for use in applications upto 1.6bar of boost pressure.
This HI-FLOW Defender Intercooler is constructed using a hi-grade LM25 cast aluminium tank which is then CNC machined for a perfect fit to the center cooling core – giving maximum strength without any risk of splits (which can be sometimes seen on "Folded Plate Tank" Intercoolers). The very hi-spec center cooling core is made to our desired specification and constructed with internal serrated and louvered finned tubes, which are designed to turbulate the internal charge air whilst giving a lower drop pressure across the core, also proving to be way more efficient than OEM, therefore yielding the maximum cooling effect; which is key to an efficient and balanced Intercooler package.
We have also have a slightly wider intercooler pipe placement allowing for thicker silicone hoses to be fitted easier without problems of the hose catching on the cowl plastics and allowing the clamps to be fitted easier, as well as this we have also made the inlet and outlet pipe diameters fractionally larger externally than OEM ensuring a good tight fit for the hoses.
This new BAS Intercooler has been independently tested by a calibration laboratory in the UK, and has been subject to extensive testing all of which have been issued with their own certification number some of which are listed below: 
High Frequency Pressure Cycling, at the double working pressure.

Drop Pressure Testing, to prove a balanced air flow rate.

High Pressure Burst Tests, ensuring overall strength.

Air Fin Flow Testing, both internally and externally.

Air Heat Rejection Clarification, ensuring we have good cooling.

Overall Intercooler Efficiency Testing.
This very in depth proof testing and development work is a first for Defender Performance Intercoolers – testing to this extreme has never been conducted on any other Defender Intercooler before!

This Intercooler has been finished with a very fine stippled effect water resistant coating (which does not impede on its heat rejection capabilities) and allows for long term protection, as well as an OEM look, when installed on your vehicle.
The video above is quite large at 64 Megabyte in size and lasts for 5 mins and 25 seconds, watching this on a mobile device will use data from your mobile data package. We advise you watch it when connected on Wifi to save any unexpected mobile data charges from your provider.
 IMPORTANT NOTES FOR INSTALLATION:
Some very small modifications are needed on the car to allow fitment of this large inter cooler conversion.
The two plastic lugs on the front of the water radiator, one lower left and one lower right must be removed to allow the larger core to drop down further in front of the radiator.
Cut off the plastic lugs shown in seperate pictures below.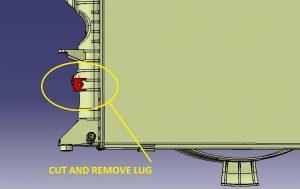 ---
Fitting notes for AC equipped cars.
For cars fitted with factory AC we supply a plastic spacer for fitting between the centre mounting bolt on the top of the AC framework and the main bonnet slam panel.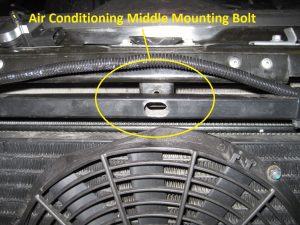 It's 

essential

the provided spacer is fitted to give adequate clearance for the rear head of the electrical AC fan bolts, this prevents them fouling on the intercooler face when going over rugged terrain, it also helps to balance the (air gap) between the rear of the AC radiator and the front of the water coolant radiator.
---
Fitting notes for NON AC equipped cars.
Puma & TD5 Cars that are fitted with diagonal slam panel brace bars to the chassis which are NON AC models will need the small plastic spacers (Two Spacers) putting between the lower of the bracket where it bolts to the chassis, one on the left, one on the right.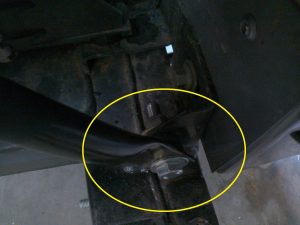 Ensure when fitting that the diagonal bars are positioned in such a way as not to foul the intercooler.
(some cars may need the diagonal bars manipulating into shape slightly depending on their style.)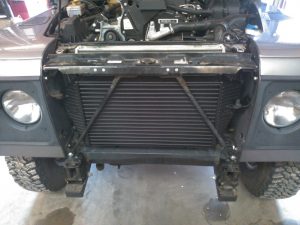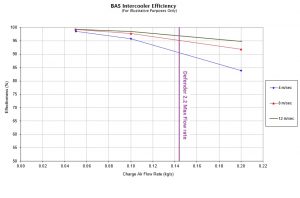 On checkout VAT will be added at the current UK rate of %20 for UK customers.
From 1st Jan 2021. VAT will be removed for all UK export sales, this will be shown in the checkout when you enter your NON UK address.
ASIN: B01MS5PKTJ
SKU: Q3-Z332-A697
EAN: 7107106045126
Allisport LIFT Defender Performance Intercooler
Country of origin for this product is United Kingdom
ASIN: B01MS5PKTJ
SKU: Q3-Z332-A697
EAN: 7107106045126

Intercooler Compatibility List
Car MakeModelCars YearVariantBodyStyleCars TypeEngineNotes
Land Rover
Defender
2015
LD [1990-2015]
SUV
2.4 TD4
2402ccm 122HP 90KW (Diesel)
 
Land Rover
Defender
2015
LD [1990-2015]
SUV
2.5 TD5 4×4
2495ccm 122HP 90KW (Diesel)
 
Land Rover
Defender
2015
LD_ [1998-2015] Pickup
Pickup
2.4 TD4
2402ccm 122HP 90KW (Diesel)
 
Land Rover
Defender
2015
LD [1990-2015]
Platform/Chassis
2.2 TD4
2198ccm 122HP 90KW (Diesel)
 
Land Rover
Defender
2015
LD_ [1998-2015] Pickup
Pickup
2.2 TD4
2198ccm 122HP 90KW (Diesel)
 
Land Rover
Defender
2015
LD [1990-2015]
SUV
2.2 TD4
2198ccm 122HP 90KW (Diesel)
 
Land Rover
Defender
2011
LD [1990-2014]
Platform/Chassis
2.2 TD4
2198ccm 122HP 90KW (Diesel)
 
Land Rover
Defender
2012
LD [1990-2014]
Platform/Chassis
2.2 TD4
2198ccm 122HP 90KW (Diesel)
 
Land Rover
Defender
2013
LD [1990-2014]
Platform/Chassis
2.2 TD4
2198ccm 122HP 90KW (Diesel)
 
Land Rover
Defender
2014
LD [1990-2014]
Platform/Chassis
2.2 TD4
2198ccm 122HP 90KW (Diesel)
 
Land Rover
Defender
2011
LD [1990-2014]
SUV
2.2 TD4
2198ccm 122HP 90KW (Diesel)
 
Land Rover
Defender
2012
LD [1990-2014]
SUV
2.2 TD4
2198ccm 122HP 90KW (Diesel)
 
Land Rover
Defender
2013
LD [1990-2014]
SUV
2.2 TD4
2198ccm 122HP 90KW (Diesel)
 
Land Rover
Defender
2014
LD [1990-2014]
SUV
2.2 TD4
2198ccm 122HP 90KW (Diesel)
 
Land Rover
Defender
2007
LD [1990-2014]
SUV
2.4 TD4
2402ccm 122HP 90KW (Diesel)
 
Land Rover
Defender
2008
LD [1990-2014]
SUV
2.4 TD4
2402ccm 122HP 90KW (Diesel)
 
Land Rover
Defender
2009
LD [1990-2014]
SUV
2.4 TD4
2402ccm 122HP 90KW (Diesel)
 
Land Rover
Defender
2010
LD [1990-2014]
SUV
2.4 TD4
2402ccm 122HP 90KW (Diesel)
 
Land Rover
Defender
2011
LD [1990-2014]
SUV
2.4 TD4
2402ccm 122HP 90KW (Diesel)
 
Land Rover
Defender
2012
LD [1990-2014]
SUV
2.4 TD4
2402ccm 122HP 90KW (Diesel)
 
Land Rover
Defender
2013
LD [1990-2014]
SUV
2.4 TD4
2402ccm 122HP 90KW (Diesel)
 
Land Rover
Defender
2014
LD [1990-2014]
SUV
2.4 TD4
2402ccm 122HP 90KW (Diesel)
 
Land Rover
Defender
1990
LD [1990-2014]
SUV
2.5 90,110 TDI
2495ccm 113HP 83KW (Diesel)
 
Land Rover
Defender
1991
LD [1990-2014]
SUV
2.5 90,110 TDI
2495ccm 113HP 83KW (Diesel)
 
Land Rover
Defender
1992
LD [1990-2014]
SUV
2.5 90,110 TDI
2495ccm 113HP 83KW (Diesel)
 
Land Rover
Defender
1993
LD [1990-2014]
SUV
2.5 90,110 TDI
2495ccm 113HP 83KW (Diesel)
 
Land Rover
Defender
1994
LD [1990-2014]
SUV
2.5 90,110 TDI
2495ccm 113HP 83KW (Diesel)
 
Land Rover
Defender
1995
LD [1990-2014]
SUV
2.5 90,110 TDI
2495ccm 113HP 83KW (Diesel)
 
Land Rover
Defender
1996
LD [1990-2014]
SUV
2.5 90,110 TDI
2495ccm 113HP 83KW (Diesel)
 
Land Rover
Defender
1997
LD [1990-2014]
SUV
2.5 90,110 TDI
2495ccm 113HP 83KW (Diesel)
 
Land Rover
Defender
1998
LD [1990-2014]
SUV
2.5 90,110 TDI
2495ccm 113HP 83KW (Diesel)
 
Land Rover
Defender
1990
LD [1990-2014]
SUV
2.5 D
2495ccm 69HP 51KW (Diesel)
 
Land Rover
Defender
1991
LD [1990-2014]
SUV
2.5 D
2495ccm 69HP 51KW (Diesel)
 
Land Rover
Defender
1992
LD [1990-2014]
SUV
2.5 D
2495ccm 69HP 51KW (Diesel)
 
Land Rover
Defender
1993
LD [1990-2014]
SUV
2.5 D
2495ccm 69HP 51KW (Diesel)
 
Land Rover
Defender
1994
LD [1990-2014]
SUV
2.5 D
2495ccm 69HP 51KW (Diesel)
 
Land Rover
Defender
1995
LD [1990-2014]
SUV
2.5 D
2495ccm 69HP 51KW (Diesel)
 
Land Rover
Defender
1996
LD [1990-2014]
SUV
2.5 D
2495ccm 69HP 51KW (Diesel)
 
Land Rover
Defender
1997
LD [1990-2014]
SUV
2.5 D
2495ccm 69HP 51KW (Diesel)
 
Land Rover
Defender
1998
LD [1990-2014]
SUV
2.5 D
2495ccm 69HP 51KW (Diesel)
 
Land Rover
Defender
1999
LD [1990-2014]
SUV
2.5 D
2495ccm 69HP 51KW (Diesel)
 
Land Rover
Defender
2000
LD [1990-2014]
SUV
2.5 D
2495ccm 69HP 51KW (Diesel)
 
Land Rover
Defender
2001
LD [1990-2014]
SUV
2.5 D
2495ccm 69HP 51KW (Diesel)
 
Land Rover
Defender
1998
LD [1990-2014]
SUV
2.5 TD5 4×4
2495ccm 122HP 90KW (Diesel)
 
Land Rover
Defender
1999
LD [1990-2014]
SUV
2.5 TD5 4×4
2495ccm 122HP 90KW (Diesel)
 
Land Rover
Defender
2000
LD [1990-2014]
SUV
2.5 TD5 4×4
2495ccm 122HP 90KW (Diesel)
 
Land Rover
Defender
2001
LD [1990-2014]
SUV
2.5 TD5 4×4
2495ccm 122HP 90KW (Diesel)
 
Land Rover
Defender
2002
LD [1990-2014]
SUV
2.5 TD5 4×4
2495ccm 122HP 90KW (Diesel)
 
Land Rover
Defender
2003
LD [1990-2014]
SUV
2.5 TD5 4×4
2495ccm 122HP 90KW (Diesel)
 
Land Rover
Defender
2004
LD [1990-2014]
SUV
2.5 TD5 4×4
2495ccm 122HP 90KW (Diesel)
 
Land Rover
Defender
2005
LD [1990-2014]
SUV
2.5 TD5 4×4
2495ccm 122HP 90KW (Diesel)
 
Land Rover
Defender
2006
LD [1990-2014]
SUV
2.5 TD5 4×4
2495ccm 122HP 90KW (Diesel)
 
Land Rover
Defender
2007
LD [1990-2014]
SUV
2.5 TD5 4×4
2495ccm 122HP 90KW (Diesel)
 
Land Rover
Defender
2008
LD [1990-2014]
SUV
2.5 TD5 4×4
2495ccm 122HP 90KW (Diesel)
 
Land Rover
Defender
2009
LD [1990-2014]
SUV
2.5 TD5 4×4
2495ccm 122HP 90KW (Diesel)
 
Land Rover
Defender
2010
LD [1990-2014]
SUV
2.5 TD5 4×4
2495ccm 122HP 90KW (Diesel)
 
Land Rover
Defender
2011
LD [1990-2014]
SUV
2.5 TD5 4×4
2495ccm 122HP 90KW (Diesel)
 
Land Rover
Defender
2012
LD [1990-2014]
SUV
2.5 TD5 4×4
2495ccm 122HP 90KW (Diesel)
 
Land Rover
Defender
2013
LD [1990-2014]
SUV
2.5 TD5 4×4
2495ccm 122HP 90KW (Diesel)
 
Land Rover
Defender
2014
LD [1990-2014]
SUV
2.5 TD5 4×4
2495ccm 122HP 90KW (Diesel)
 
Land Rover
Defender
2011
LD_ [1998-2014] Pickup
Pickup
2.2 TD4
2198ccm 122HP 90KW (Diesel)
 
Land Rover
Defender
2012
LD_ [1998-2014] Pickup
Pickup
2.2 TD4
2198ccm 122HP 90KW (Diesel)
 
Land Rover
Defender
2013
LD_ [1998-2014] Pickup
Pickup
2.2 TD4
2198ccm 122HP 90KW (Diesel)
 
Land Rover
Defender
2014
LD_ [1998-2014] Pickup
Pickup
2.2 TD4
2198ccm 122HP 90KW (Diesel)
 
Land Rover
Defender
2007
LD_ [1998-2014] Pickup
Pickup
2.4 TD4
2402ccm 122HP 90KW (Diesel)
 
Land Rover
Defender
2008
LD_ [1998-2014] Pickup
Pickup
2.4 TD4
2402ccm 122HP 90KW (Diesel)
 
Land Rover
Defender
2009
LD_ [1998-2014] Pickup
Pickup
2.4 TD4
2402ccm 122HP 90KW (Diesel)
 
Land Rover
Defender
2010
LD_ [1998-2014] Pickup
Pickup
2.4 TD4
2402ccm 122HP 90KW (Diesel)
 
Land Rover
Defender
2011
LD_ [1998-2014] Pickup
Pickup
2.4 TD4
2402ccm 122HP 90KW (Diesel)
 
Land Rover
Defender
2012
LD_ [1998-2014] Pickup
Pickup
2.4 TD4
2402ccm 122HP 90KW (Diesel)
 
Land Rover
Defender
2013
LD_ [1998-2014] Pickup
Pickup
2.4 TD4
2402ccm 122HP 90KW (Diesel)
 
Land Rover
Defender
2014
LD_ [1998-2014] Pickup
Pickup
2.4 TD4
2402ccm 122HP 90KW (Diesel)
 
Land Rover
Defender
1998
LD_ [1998-2014] Pickup
Pickup
2.5 TD5
2495ccm 122HP 90KW (Diesel)
 
Land Rover
Defender
1999
LD_ [1998-2014] Pickup
Pickup
2.5 TD5
2495ccm 122HP 90KW (Diesel)
 
Land Rover
Defender
2000
LD_ [1998-2014] Pickup
Pickup
2.5 TD5
2495ccm 122HP 90KW (Diesel)
 
Land Rover
Defender
2001
LD_ [1998-2014] Pickup
Pickup
2.5 TD5
2495ccm 122HP 90KW (Diesel)
 
Land Rover
Defender
2002
LD_ [1998-2014] Pickup
Pickup
2.5 TD5
2495ccm 122HP 90KW (Diesel)
 
Land Rover
Defender
2003
LD_ [1998-2014] Pickup
Pickup
2.5 TD5
2495ccm 122HP 90KW (Diesel)
 
Land Rover
Defender
2004
LD_ [1998-2014] Pickup
Pickup
2.5 TD5
2495ccm 122HP 90KW (Diesel)
 
Land Rover
Defender
2005
LD_ [1998-2014] Pickup
Pickup
2.5 TD5
2495ccm 122HP 90KW (Diesel)
 
Land Rover
Defender
2006
LD_ [1998-2014] Pickup
Pickup
2.5 TD5
2495ccm 122HP 90KW (Diesel)
 
Land Rover
Defender
2007
LD_ [1998-2014] Pickup
Pickup
2.5 TD5
2495ccm 122HP 90KW (Diesel)