The Brand New BAS2 RRC Remote Remap Control Tool Is available now!!
The BAS2 RRC is a revolutionary and brand new design remapping tool that will allow you to Remap your car without leaving the comfort of your home all while using your iPhone or iPad to control it…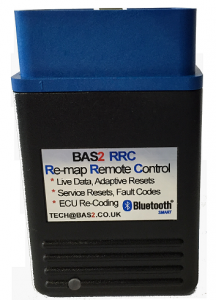 Screen shots of this powerfull new remote tuning and engine diagnostic tool below hilighting some of its capability and available functions. (Pictures taken while using an iPad Mini on Puma 2.2 Defender)
Remap your car by mail order without visiting BAS worskhops.
Use your Iphone or Android as its control system.
Get firmware and tuning updates using a PC or a MAC.
Make oil counter resets on your car.
Reset engine component adaptations values on your car.
Program injector codes where needed.
Shows you live data from the engine ecu, handy for fault finding.
Enable you to program the latest LR calibration files to your car.
Lets you read and clear fault codes and gives fault text description.
Program a new fuel pump VCV on a Puma 2.4TDCi.
Allow pilot correction and injector calibration resets on a Puma 2.4TDCi.
Gives you a means to program a NEW spare ecu to your Puma 2.2TDCi..
Allows you to buy & tune (when owned by same household) more than one car at a time.
Uses Bluetooth V4 and above to connect to your control Apple device.
A tool, that will no doubt beat on functionality for LandRover models all other remote tuning tools available on the market to-date.