IID BT Gap Diagnostics tool
£450.00
Including 20% VAT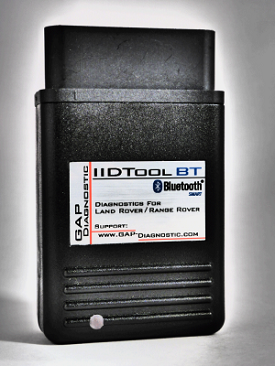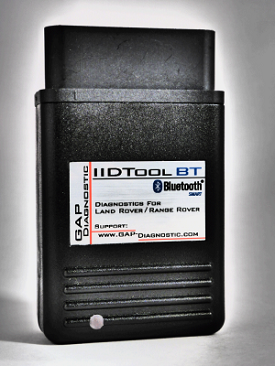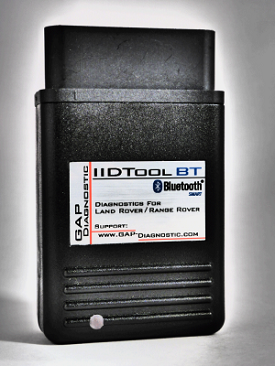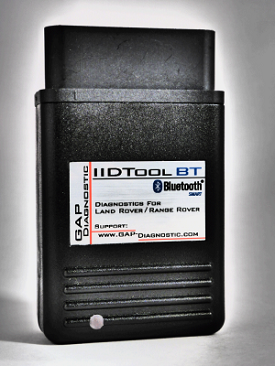 A one-time price of
£375.00
will be added to your order.
Description
Specifications
For more details about the IIDTool BT capabilities, please visit the GAP Diagnostic product page located here Also see the specifications tab above.
The user Manual for IIDTool Pro, BT and regular IIDTool V3.0 can be viewed as a PDF from Here
Fits Supported vehicle list
Defender Puma L316 2007-15
Discovery3/LR3 L319 2004-09
Discovery4/LR4 L319 2010 and up
Freelander 2/LR2 L359 2008-2015
Range Rover L322 2002-12
Range Rover L405 2014 and up
Range Rover Evoque L538 2011 and up
Range Rover Sport L320 2005-2013
Range Rover Sport L494 2014 and up

Supported mobile devices
iPad Mini, iPad 3rd generation onward, iPhone 4S onward. Android devices fitted with a Bluetooth V4.0 transceiver and running on OS 4.3 or higher. Low cost generic Android devices rarely work.
Comes with one USB cable, quick start guide and storage box. Mobile device not included.
On checkout UK VAT will be added at the current UK rate of %20 where applicable for EU countries, VAT will be removed for non EU sales when you enter your address during the checkout process.
Full Diagnostic Capability (Standard for all vin cars)

Fault Read / Clear of all vehicle systems

Service routines (including service reminder reset)

Live Data

Manual Components Activation (Output Control)

Calibrations (except suspension)
Advanced Programming Functions (Vin Locked)

Vehicle control modules software updates (ECU Re-Flashing)

Engine tuning, EGR Patching, Speed limiter raising and more (purchased separately)

Key programming (except Range Rover L322 2002-2009 and Defender)

Car Configuration / Personalization (CCF editing (except Defender)

Height Adjustment (front, rear or all)

Air suspension individual sensor calibration (needed after a repair)

Backup of original height and CCF values

3 personalized height profiles
IOS/Android App Features
Easy access to all Diagnostic and Programming functions

Email exportation of faults, live data and ECU info

Real time logging of live data

Up to 8 live values displayed simultaneously on graph and numerical views

And much more
Currently supported control devices are:
• iPad Mini
• iPad 3rd generation and up
• iPhone 4S, 5 and up
• iPod Touch 5 and up
• For Android, please contact us for an up to date list of supported devices. In order to work, it needs to be fitted with a Bluetooth V4.0 transceiver and run on OS 4.3 or higher. Low cost generic devices rarely work.
* Firmware upgrades are completed via the internet / USB and are free of charge for one year after the date of purchase. Flashing of new ECU's and ECU re-flashing is supported. For a list of supported ECU re-flash, consult the functionality list and user manual. More ECU files will be added and available by purchasing an additional module except for the IIDTool Pro (included in the yearly subscription).
** Pre 2010 vehicles: The Nav On Move (destination entry while on the move by the passenger) enabling procedure is available. Not available for 2010 and up vehicles.
***Additional tuning services provided by Bell Auto Services (BAS Remaps) and transported by the IIDTool. Additional charges apply.